Get a Perfect Smile With Invisalign
Posted by Dr. Kossi on Jun 10 2023, 03:17 AM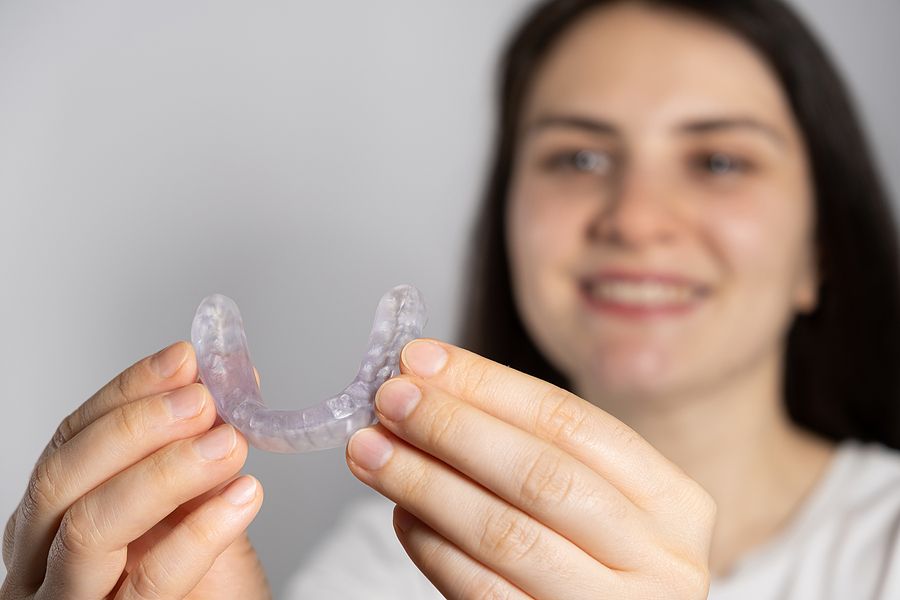 Are you tired of feeling self-conscious about your smile? Have you been considering orthodontic treatment but dread the thought of traditional metal braces? Look no further than Invisalign! This innovative teeth straightening system offers a discreet and convenient alternative to traditional braces. 
What is Invisalign?
Invisalign is a revolutionary orthodontic treatment that offers an alternative to traditional metal braces. Rather than using wires and brackets, Invisalign utilizes clear plastic aligners that are custom-made to fit your teeth.
These removable aligners gradually shift your teeth into their proper position over time. Unlike traditional braces, Invisalign allows you to eat whatever foods you want without worrying about damaging the hardware or getting food stuck in it.
How does Invisalign work?
Invisalign is a popular orthodontic treatment that involves the use of clear plastic aligners to move teeth gradually over time. The process starts with a consultation with your dentist or orthodontist, who will determine if Invisalign is right for you.
If you are a good candidate for Invisalign, your dentist will take impressions of your teeth and create custom aligners that fit snugly over them. You'll wear each set of aligners for about two weeks, then switch to the next set in the series.
The aligners work by applying gentle pressure to specific teeth at different times throughout treatment. This pressure gradually shifts the teeth into their desired positions without causing discomfort or pain.
Throughout treatment, you'll visit your dentist periodically to check on progress and receive new sets of aligners as needed. Most patients achieve their desired results within 12-18 months, although some cases may require longer treatment times.
Invisalign offers a discreet and convenient way to straighten your smile without traditional braces' hassle or discomfort. With proper care and maintenance, you can enjoy a perfect smile for years to come!
Benefits of Invisalign
Invisalign is a popular alternative to traditional wire braces for straightening teeth. Here are some of the benefits of Invisalign:
Invisalign aligners are virtually invisible, making them a great option for adults who may feel self-conscious about wearing braces.
The aligners can be removed when eating, brushing, or flossing, allowing for better oral hygiene during treatment.
Unlike traditional braces that require frequent visits to the dentist to tighten wires, Invisalign appointments typically only need to occur every 6-8 weeks.
The smooth plastic material used in Invisalign aligners reduces irritation and discomfort compared to metal wires and brackets.
How to get started with Invisalign
In order to get started with Invisalign, the first step is to find a qualified dentist, like our dentist in Santa Clarita, who offers this treatment. Once you have found a dentist, schedule an initial consultation to discuss your goals and see if you are a good candidate for Invisalign. During this visit, the dentist will examine your teeth and take X-rays and impressions of your mouth.
Based on this information, they will create a custom treatment plan that outlines how many aligners you will need and how long the treatment process should take. They will also provide you with an estimated cost for the entire procedure.
If you decide to move forward with Invisalign, the next step is to receive your first set of aligners. These must be worn at least 20-22 hours per day for maximum effectiveness.
Throughout your treatment journey, you'll need regular check-ins with your dentist in Santa Clarita to ensure that everything is progressing as it should be. At these appointments, new sets of aligners may be provided as needed until your teeth have shifted into their desired positions.
By following these steps and working closely with a qualified dental professional in Santa Clarita who specializes in Invisalign treatments, achieving a perfect smile has never been more accessible or convenient!
Schedule a consultation with Dr. Kossi, DDS, at Smile City Dental in Santa Clarita, California, to learn more tips for maintaining a healthy smile. You can reach us by calling (661) 252-8888, scheduling an appointment online, or visiting us at 19366 Soledad Canyon Rd, Santa Clarita, CA 91351 now.